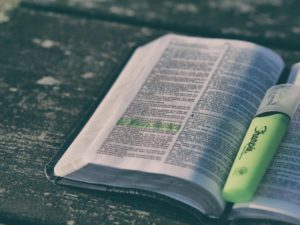 What We Believe
The Scriptures are true, authoritative and sufficient.

?There is only one true God, Creator of heaven and earth, who eternally exists in three distinct persons: Father, Son and Holy Spirit.

All things exist for the glory of God.

All humanity—Christ excluded—is sinful by both birth and action.

The deserved penalty for sin is physical and spiritual death.

Jesus Christ is the eternal Son of God, was born of a virgin and is both fully God and fully human.

Jesus Christ died as the sacrificial substitute to pay the penalty for sin.

Jesus Christ physically rose from the dead, ascended into heaven and will one day physically return.

Individuals were created to exist forever. They will either exist eternally separated from God by sin, or in union with God by grace through faith. To be eternally separated from God is hell. To be eternally with God is heaven. Heaven and hell are places of eternal existence.

Only through faith in the person and work of Jesus Christ and repentance from sin can one be reconciled to God and experience true life and joy.

Since God gives eternal life through Christ, the believer is secure in that salvation forever. Salvation is maintained by the grace and power of God, not by the efforts of the believer.
Membership
What does it mean to be a member of First Baptist Church of Warner?
Being a member of a local church means that you are a believer in Jesus Christ. When you join the church, you are affirming that you have genuinely received Christ as your Savior and Lord and obeyed Him through Believer's baptism.
Committing yourself to a body of believers is important. When you join, you are committing to a spiritual family that provides encouragement and support. They are called to a biblical degree of responsibility, service and sacrifice to each other.
Joining our fellowship begins by indicating your desire to join during the invitation portion of our worship service. This is a chance for you and your family to come forward and acknowledge to the pastor you are ready to join our church family. Once we present you to the church family, we will schedule you to attend our New Members Class.
Our New Members Class is held three times a year and allows us to all be on the same page no matter what background you may have come from. It's an exciting 7-week series taught by our pastor that covers what we believe, why we believe it, and how we can live out our faith on a daily basis.
Baptism
What is Baptism?
Jesus instructed His followers to remember His death and resurrection. He gave the church two visible symbols, called "ordinances," as reminders. These two ordinances are Baptism and the Lord's Supper. Baptism by immersion is a one-time act of obedient identification with Jesus as Lord. It serves as an outward sign of conscious confession of repentance and faith.
Our baptism is by immersion after salvation because it is a matter of:
Submission – Our Lord commanded all who become His disciples to be baptized (Matthew 28:19-20).

Identification – Our Lord was baptized as an example for us to identify (Mark 1:10).

Definition – The word "baptize" comes from the Greek word, "baptiso" meaning "to make fully wet, to dip or immerse."

Representation – Only immersion baptism represents the death, burial and resurrection of Jesus Christ and the new believer (Romans 6:3-4).